Follow us on
Friday | August 23, 2019
Numbers above indicate:
• Current or • Recent
Voter Information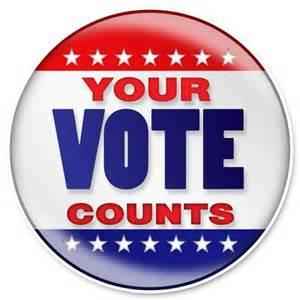 The next upcoming election is the April 2, 2019 Consolidated General Election. Polls will be open 6:00am - 7:00pm.
For the election of Municipal, Park District, Library District, School District and Fire District officials
Visit the Dupage County Clerk's Election Division website for all questions/information related to the following:
Online voter registration
Mail-in voter registration
View sample ballots (available approx. 40 days prior to an election
Absentee voting
Voting locations
...and more
You can register to vote/update your voter registration at Wayne Township Monday - Friday 9:00am - 4:00pm (as long as voter registration is not closed). Please bring two forms of ID showing your current address.
Free TV/monitor recycling has pretty much become a thing of the past. There are a few drop off locations for electronics scattered throughout DuPage County (fees apply for TVs and monitors).
click here for electronic recycling information
©2019 Wayne Township (DuPage County) Illinois • 27W031 North Avenue, West Chicago IL • 630-231-7140
Back to top Site design by Graphic Impact