Sunday
|
February 5, 2023
EVENT
Senior Event: Lunch and Smoky the War Dog
Thursday, November 3, 2022 — 11:30am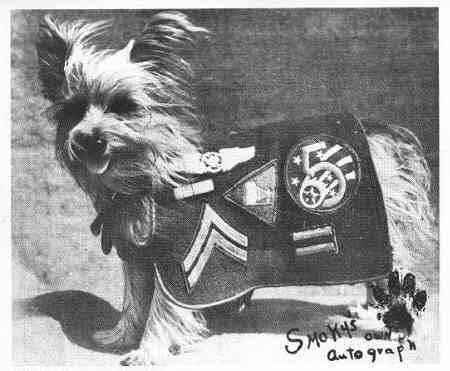 From a lucky chance discovery at the bottom of an abandoned fox hole in Papua New Guinea during WWII to becoming a famous entertainer, a decorated war hero, and the world's first official therapy dog of record; Smoky's story is nothing short of amazing. This story is one that is inspirational, emotional, and a great tribute to our veterans, including all dogs of war. Smoky's story is told by professional public speaker and skilled storyteller Adrian Brigham, who was a person friend of Bill Wynne, Smoky's owner and trainer.
A light lunch from Subway prior to the presentation includes chips and a cookie.
Choice of sandwich at sign up:
Turkey
Ham
Veggie
Italian
Registration
Location
WTSC
27W031 North Avenue
West CHicago IL 60185


Use link at bottom for map and driving directions

Contact
Senior Center
630-231-7155
E-mail (use link below)

Additional Details:
*Map and directions from Google. While most mapping is accurate, not all addresses are recognized and a more general map may be provided.
Updated 9/9/2022
Return to Calendar