Sunday
|
February 5, 2023
EVENT
Senior Trip: MISSION BBQ and Air Classics Museum
Tuesday, October 4, 2022 — 10:30am - 4:00pm
There was a WAITING LIST for this event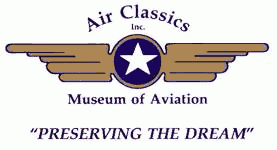 MISSION BBQ strives every day to remind everyone what makes our country great - its heroes. They believe there is nothing more American than BBQ, and nobody more American than the brave men and women who have sworn to protect and serve.
After lunch we will go to the Air Classics Museum in Sugar Grove to see aircraft, vehicles, uniforms and other aviation memorabilia from the 1930s to present time! Volunteer veterans offer guided tours of the aircraft located on-site and visitors are encouraged to sit in an A-7 flown in the Gulf War, as well as climb into the pilot's seat of an UH-1 Huey helicopter.
Sandwich choice at sign-up:
Pulled pork OR Pulled chicken OR Brisket
Lunch includes fries and a fountain drink.
Registration
Contact
Senior Center
630-231-7155
E-mail (use link below)

Additional Details:
Event Brochure/Flyer (pdf) | Website | E-mail | Map
Updated 9/19/2022
Return to Calendar